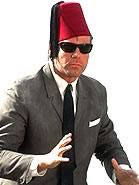 John William "Will" Ferrell (born July 16, 1967[1]) is an Emmy- and Golden Globe-nominated American comedian, impressionist, writer and actor who first established himself as a cast member of Saturday Night Live.
Austin Powers
Edit
Will Ferrell plays Dr. Evil's henchman Mustafa in International Man of Mystery and The Spy Who Shagged Me.
Ad blocker interference detected!
Wikia is a free-to-use site that makes money from advertising. We have a modified experience for viewers using ad blockers

Wikia is not accessible if you've made further modifications. Remove the custom ad blocker rule(s) and the page will load as expected.