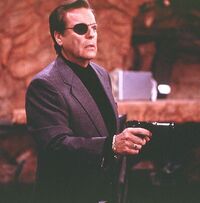 Robert John Wagner (born February 10, 1930) is a popular American film and television actor, primarily for his roles in movies, soap operas and television.
Austin Powers
Edit
In Austin Powers Robert Wagner plays Number 2, Dr. Evil's right hand man. He oversees the finances of the companies that fund Dr. Evil's evil plans.
Filmography
Edit
Selected television appearances
Edit
1953: Jukebox Jury as himself
1963: The Eleventh Hour, episode: "And God Created Vanity"
1968–70: It Takes a Thief as Alexander Mundy
1970–71: The Name of the Game as David Corey
1971: City Beneath the Sea (movie)
1972–74: Colditz as Flight Lieutenant Phil Carrington
1975–78: Switch as Pete T. Ryan
1978: Pearl (mini series)
1979–84: Hart to Hart as Jonathan Hart
1980: The Jacques Cousteau Odyssey narrator (2 episodes)
1981: The Fall Guy as Himself (1 episode)
1982: M*A*S*H, episode: "Blood and Guts" as Randall
1984: To Catch a King as Joe Jackson (TV miniseries)
1984: There Must Be a Pony as Ben Nichols
1985: Lime Street (as James Greyson Culver)
1987: Shadow of the Stone as Himself (1 episode)
1988: Windmills of the Gods (miniseries)
1994: Parallel Lives as the sheriff
1995: Christmas Reunion (movie)
1997: Seinfeld, episode: "The Yada Yada" as Dr. Abbot
1999: Fatal Error, as Albert Teal (movie)
2003: Hope & Faith as Jack Fairfield (7 episodes)
2005: The Simpsons, episode: "Goo Goo Gai Pan" as himself
2005: That '70s Show, episode: "Bohemian Rhapsody" as himself
2006: Las Vegas, episode: "Cash Springs Eternal" as Alex Avery
2006: Boston Legal as Barry Goal (2 episodes)
2007: Hustle, season 4 premiere: "As One Flew Out, One Flew In"
2007: Two and a Half Men as Teddy Leopold (5 episodes)
2010–: NCIS as Anthony DiNozzo Sr. (9 episodes)
2011: The Amazing World of Gumball, episode: "The Spoon" as Claire
2012: The League as "Gumpa" Duke, episode: "Bro-Lo El Cordero"
2013: Futurama as himself
2014: Hot in Cleveland as Jim in episode "Bossy Cups"
Ad blocker interference detected!
Wikia is a free-to-use site that makes money from advertising. We have a modified experience for viewers using ad blockers

Wikia is not accessible if you've made further modifications. Remove the custom ad blocker rule(s) and the page will load as expected.