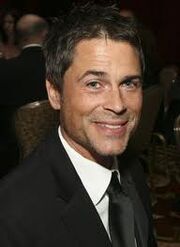 Rob Lowe
(born Robert Hepler Lowe: March 17, 1964 Charlottesville, Virginia) is an American actor. As a child, he was baptized in the Episcopal church. Rob is of English, Irish, Scottish, Welsh, and German descent. He is most famous in his film roles in
The Outsiders
,
St. Elmo's Fire
,
Wayne's World
(with
Mike Myers
), and
Tommy Boy
. He is married to a make-up artist Sheryl Berkoff since 1991 and they have two sons, Edward (born 1993) and John (born 1995).
Ad blocker interference detected!
Wikia is a free-to-use site that makes money from advertising. We have a modified experience for viewers using ad blockers

Wikia is not accessible if you've made further modifications. Remove the custom ad blocker rule(s) and the page will load as expected.