John Travolta
(born John Joseph Travolta: February 18, 1954 Englewood, New Jersey) is an Academy Award-nominated, Golden Globe Award-winning American actor and singer.
John is best known for his role in Carrie (with Sissy Spacek), The Boy in the Plastic Bubble, Grease (with Olivia Newton John), Urban Cowboy (with Debra Winger), Pulp Fiction, Swordfish, The Taking of Pelham 123, Bolt, Wild Hogs (with Tim Allen) and Old Dogs (with Robin Williams & Seth Green).
He is married to Kelly Preston since 1991, and they have three children: Jett (1992-2009), Ella Blau (born 2000), and Benjamin (born 2010).
Austin Powers
Edit
John Travolta played
Goldmember
in
Austinpussy
, the film within the film which was made and aired during
Austin Powers in Goldmember
.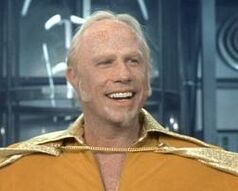 Ad blocker interference detected!
Wikia is a free-to-use site that makes money from advertising. We have a modified experience for viewers using ad blockers

Wikia is not accessible if you've made further modifications. Remove the custom ad blocker rule(s) and the page will load as expected.