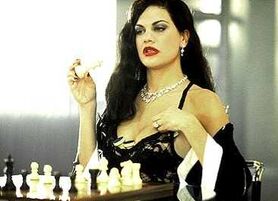 "Oh, you are hairy! Like animal!" -Ivana Humpalot
Ivana Humpalot (Kristen Johnston) is a stereotypical Russian woman, who appears in The Spy Who Shagged Me. Her name is a parody of Xenia Onatopp from the James Bond film GoldenEye and also a pun on the phrase "I wanna hump a lot". She meets Austin during a photo shoot, following which they play an erotic game of chess where she confeses that she works for Dr. Evil but says he is too sexy and they have sex in bed. The scene is a spoof of the 1968 movie The Thomas Crown Affair. Unfortunately, shortly after they begin to shag, Austin realizes his mojo has been stolen, rendering him impotent before he and Humpalot can achieve orgasm. This, theoretically, would make Ivana the only woman Austin Powers was ever unable to sexually satisfy.
Foreign Language Versions
Edit
Czech: Radana Chuja (Ráda na chuje (She) likes on cock).
Dutch: Kwil Vanbilski (Ik wil van bil, I want to have sex).
French (France): Jorevka Tumbezaski ("Je reve que tu me baise a skis", I dream that you fuck me on skis).
French (Canada): Elmor Susafon ("Elle mord, suce à fond", She bites, suck till end).
German: Annette Halbestunde (Eine nette halbe Stunde, a nice half an hour).
Italian: Ivona Pompilova (pompino, oral sex).
Portuguese (Brazil): Ivana Kertrepar (quer trepar, want to have sex).
Spanish: María Unpajote (Me haría un pajote, I would masturbate).
Ad blocker interference detected!
Wikia is a free-to-use site that makes money from advertising. We have a modified experience for viewers using ad blockers

Wikia is not accessible if you've made further modifications. Remove the custom ad blocker rule(s) and the page will load as expected.