Fred Savage (born Frederick Aaron Savage: July 9, 1976 Glencoe, Illinois) is an Emmy Award and Golden Globe Award-nominated American actor and television director.
He is famous for playing the granson in The Princess Bride and Oswald in Oswald.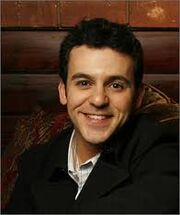 He married his childhood friend Jennifer Lynn Stone and they have two children, Oliver (born 2006) and Lily (born 2008).
Ad blocker interference detected!
Wikia is a free-to-use site that makes money from advertising. We have a modified experience for viewers using ad blockers

Wikia is not accessible if you've made further modifications. Remove the custom ad blocker rule(s) and the page will load as expected.