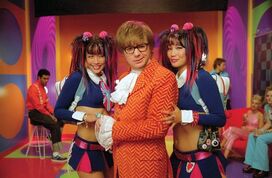 "Austin, this is my twin sister. Her name, 'Fook Yu.'" -Fook Mi
Fook "Mi" and Fook "Yu" were two Japanese twins at Austin's Pad after his knighting at Buckingham Palace. Fook Mi asked for an autograph, she told him several times her name and he kept taking it the other way ("Oh, behave, baby!", "Kiss your mother with that mouth?"). He did the same with Fook Yu before he found out she was Fook Mi's sister ("You're going the right way for a smacked bottom, I don't care who knows it!")
He checked off one of the things on his bucket list of having a threesome with Japanese twins and enjoyed it as the two girls gave him a "top secret massage". Unfortunately for Austin, they left when Basil Exposition showed up with the news that his father had been kidnapped. They also appear in a deleted scene from Austin Powers in Goldmember. They are very wild with their sexuality as shown in the deleted scene when they imply a four way between them(Fook Mi and Fook Yu), Austin, and Foxy Cleopatra.
Quotes and Trivia
Edit
Fook Mi: Austin, this is my twin sister. Her name Fook Yu. Fook Yu, Fook Mi. See?
Austin: (breathless at this) Twins, twins?! (pretends to "de-fog" his glasses, speaking between chuckles) Twins!! Yes! "We're going to see the twins"!!
Fook Yu is "strong in legs" and Fook Mi is flexible.
They both say Austin's catchphrases incorrectly such as "We think you are very gravy baby" "Do we make you sleepy."
Fook Mi's real name is Cindy and Fook Yu's real name is Sally, according to the deleted scene from Goldmember. https://m.youtube.com/watch?v=_fgoZp6ndK8
Ad blocker interference detected!
Wikia is a free-to-use site that makes money from advertising. We have a modified experience for viewers using ad blockers

Wikia is not accessible if you've made further modifications. Remove the custom ad blocker rule(s) and the page will load as expected.