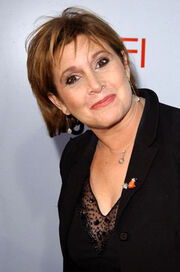 Carrie Fisher (born October 21, 1956 - December 27, 2016) is an American actress, screenwriter and novelist, best known for her role as Princess Leia Organa in the original Star Wars trilogy. She appeared in International Man of Mystery as a therapist that Dr. Evil and Scott go to.
Early Life
Edit
Fisher was born Carrie Frances Fisher in Beverly Hills, California, the daughter of singer Eddie Fisher and actress Debbie Reynolds; her paternal grandparents were Jewish immigrants from Russia. Her younger brother is Todd Fisher. Her half-sisters are actress Joely Fisher and Tricia Leigh Fisher, whose mother is actress Connie Stevens.
When she was only two years old, her parents divorced and her father married actress Elizabeth Taylor. The following year, her mother married shoe store chain owner Harry Karl. Fisher grew up wanting to follow in the footsteps of her famous parents. She began appearing with her mother in Las Vegas at the age of twelve. She attended Beverly Hills High School but left to become an actress. She appeared as a debutante and dancer in the hit Broadway revival Irene (1973) starring her mother.
Soon after, she enrolled at London's Central School of Speech and Drama, where she studied for eighteen months. Her first movie appearance was in the Columbia Pictures comedy Shampoo (1975) starring Warren Beatty, Julie Christie and Goldie Hawn.
In 1977, Fisher starred as Princess Leia Organa in George Lucas's sci-fi classic Star Wars opposite Mark Hamill and Harrison Ford, with Peter Cushing and Alec Guinness.
Star Wars was a huge success and made her internationally famous in her own right. Princess Leia became a merchandising triumph; there were small plastic dolls of her in every toy store across the United States. Fisher has often joked that it was actually Princess Leia who became famous, and she just happened to look like her. After her appearance in Return of the Jedi wearing the famous "Metal Bikini" or "Slave" outfit, Fisher was, for a brief time, regarded as a sex symbol.
During this time, in the late 1970s, Fisher became addicted to drugs. She appeared as Princess Leia in the 1978 made-for-TV movie, The Star Wars Holiday Special, and her drug use was quite evident from her on-screen performance. The problem became so severe that she was nearly fired from The Blues Brothers (1980) for being unstable to sober long enough to film a proper scene. She was then cleaned up and joined N.A. and A.A.
She appeared on Broadway as Iris in Censored Scenes from King Kong (1980). She appeared again as Princess Leia in Star Wars Episode V: The Empire strikes back (1980), and made her third and final appearance in Star Wars Episode VI: Return of the Jedi (1983). She was also a replacement in the Broadway play Agnes of God (1982).
Fisher's novel, Postcards from the Edge, which was semi-autobiographical in the sense that she fictionalized events obviously from her real life, such as her drug addiction of the late 1970s, was published in 1987. It became a sensational bestseller and she received the Los Angeles Pen Award for Best First Novel.
In 1990, Columbia Pictures released a movie version Postcards from the Edge, adapted for the screen by Fisher and starring Meryl Streep, Shirley MacLaine, and Dennis Quaid.
Fisher hosted the Saturday Night Live episode that contained the first polished performance by Dan Aykroyd and John Belushi as their popular "Blues Brothers" characters, Joliet Jake and Elwood. Fisher later appeared in The Blues Brothers movie as Joliet Jake's vengeful ex-lover, listed in the credits as "Mystery Woman." She is one of the few actors to star in movies with both John and Jim Belushi, later appearing with Jim in the movie The Man with One Red Shoe.
Her other novels include Surrender the Pink (1991), Delusions of Grandma (1993) and The Best Awful There is (2004). She also did a book of photographs titled Hollywood Moms (2001).
In the movie Scream 3, Fisher's character "Bianca Burnette" is mistaken for Carrie Fisher. Fisher pokes fun at herself with the line, "Yeah, I was up for the part of Princess Leia. But who gets it? The girl who slept with George Lucas!"
She co-wrote the TV comedy movie These Old Broads, of which she was also co-executive producer. It starred her mother, Debby Reynolds, as well as Elizabeth Taylor, Joan Collins and Shirley MacLaine. In this, Taylor's character, an agent, explains to Reynolds's character, an actress, that she was in a drunken blackout when she married the actress's husband, "Freddy."
Besides acting and writing, Fisher also works as a script doctor on the screenplays of other writers.
Personal Life
Edit
Carrie Fisher has had two husbands: Paul Simon and Bryan Lourd. She is the mother of Billie Catherine Lourd, whose father is Bryan Lourd. The couple's marriage ended when Lourd left for a man. For a brief time she was engaged to Dan Aykroyd. It has been rumored for years that she had an affair with Harrison Ford while filming the original Star Wars. While Fisher admitted she had a crush on Ford and spent time with him off camera, she denies ever having an affair with him.
In an interview on public radio in 2005, Fisher expressed some regret about being known overwhelmingly for her role as Princess Leia, and joked that she was afraid if she ever became senile she might begin to slip back into character.
Fisher has publicly discussed her problems with drugs, her battles with bipolar disorder and overcoming an addiction to prescription antidepressants, most notably on ABC-TV's 20/20.
On February 26, 2005, Republican Party media adviser R. Gregory Stevens, 42, was found dead in a guest room at Fisher's home. She stated that he was a longtime friend and often stayed with her. An autopsy revealed he died from an overdose of cocaine and OxyContin.
Carrie Fisher broke her twelve-year-run of non-dating by living with three-time Emmy Award-winning news pilot/reporter Bob Tur. The couple broke up in late 2005.
Ad blocker interference detected!
Wikia is a free-to-use site that makes money from advertising. We have a modified experience for viewers using ad blockers

Wikia is not accessible if you've made further modifications. Remove the custom ad blocker rule(s) and the page will load as expected.