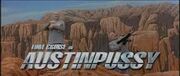 Austinpussy
is a film that you see being made by
Steven Spielberg
during the opening credits of
Austin Powers in Goldmember
. Then at the end of the Goldmember
Austin Powers
and
Foxxy Cleopatra
go to the premiere.
The name Austinpussy, was a candidate for the title of the second film. Eventually, it was given to the title of the film-in-a-film, due to the mature nature of the word (though ironically the second film's new title is considered equally vulgar in the United Kingdom).
Austinpussy is a word-play on the Bond film Octopussy.
Steven Spielberg's cameo is arguably an in-joke reference to the fact that Spielberg had always wanted to direct a James Bond movie.
Ad blocker interference detected!
Wikia is a free-to-use site that makes money from advertising. We have a modified experience for viewers using ad blockers

Wikia is not accessible if you've made further modifications. Remove the custom ad blocker rule(s) and the page will load as expected.